Dynomotive now offers the gear set with super finish.  This is one more way of improving our quality and services to ensure our clients get the best for their cars.
Super finishing or micro-finishing known as CASF (Chemically Accelerated Surface Finishing) In fact it is a metalworking process that reduces stress and friction to metal components.
As a result of manufacturing, rough surfaces form on the component. The removal of these micro peaks, creates a uniform surface that reduces friction and enhances lubrication.
In conclusion the superfinishing process will ensure: –
reduced friction and wear;
reduced operating temperature, even at high speeds;
it eliminates the need for 'run in' time by reducing the risk of component failure;
reduced vibration and noise
improved performance;
a cleaner lubricant;
reduced component wear;
less debris produced;
increased life span of the component;
In other words, manufacturers are able to offer smaller and lighter parts, without impacting on performance and transmission of energy.
Above all it is now possible to use higher viscosity lubricants that will assist in longer maintenance intervals which in turn will create huge savings in running costs and total costs of ownership.
Super finishing is used widely in a variety of sectors, including the turbine and F1 racing industries. In other words, it is used not only on steel but it is widely employed in the creation of rare alloys like titanium, aluminium, glass, and ceramic.
Gear set perfection using super finishing.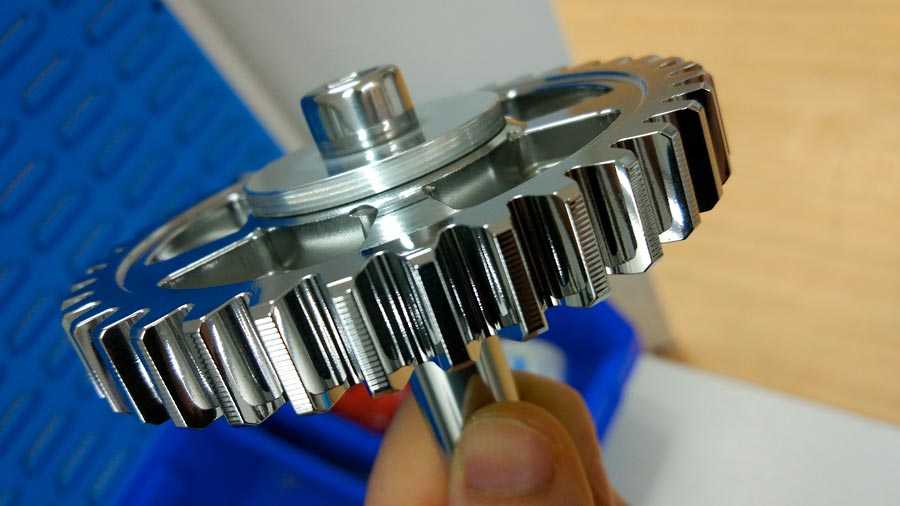 Click here to check out our other super finished products, the range will continue to grow.
Watch the short video below: –